TopoL xT 10.0
New version for delivery of TopoLu xT with version number 10.0. It brings a number of innovations, new features and improvements. more...
products and services
how to test TopoL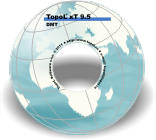 Download for free TopoLu xT demo version. It is not time limited and allows you to perform all operations as variant Basic. You can edit vector data up to 500 objects in one vector data block, process raster data up to size 4 milions of pixels. The size of data for displaing is not limited.
If you want only to view the data you can use the fully functional free viewer TopoL Explorer. Its download is free and you can deliver it to your customers with your data free of charge.